Weather

Today: Sunny and warm
Sunny weather with some cumulus clouds in the afternoon. Possibility of isolated thunderstorms especially in the South of the region. Maximum temperatures from 22° to 31°.
---
Tomorrow: Quite sunny and warm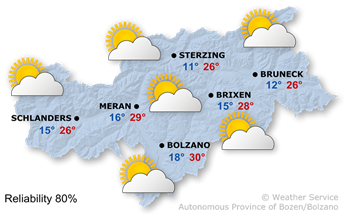 In some valleys low clouds. During the day more and more sunshine. In the afternoon cumuliform clouds with isolated thunderstorms. High temperatures between 26° and 30°.
---
Next days Weather forecasts: Summery conditions