Weather

Today: Very sunny, cold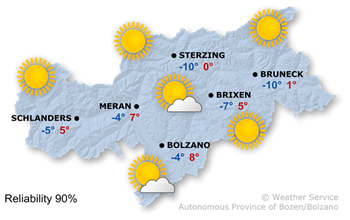 Sunny day, with some harmless clouds along the Etsch river. High values from -4° to +7°.
---
Tomorrow: Sunny weather
Sunny weather with mostly clear sky. High temperatures until 8° in Bozen.
---
Next days Weather forecasts: Mostly sunny on Friday, some clouds on Saturday
On Friday still high pressure conditions, at times a few cirrus clouds may pass through. In some valleys Föhn wind. Saturday partly sunny with some clouds from North. Sunday probably mostly sunny with some denser clouds in the North and East. Monday sunny again in the whole region.